04-11-2019 06:21 AM
Posted by:
iGetter Support
Since Quantum release of Firefox (which adopted Chrome's WebExtensions), some users search left and right for a Firefox alternative that still supports the XUL based add-ons. One such Firefox fork is Waterfox (waterfoxproject.org). It's regularly patched with latest ESR security fixes of Firefox (currently v60 ESR). In addition to the new WebExtensions, it adds support for most XUL based add-ons plus NPAPI plugins.

I tested current version of iGetter v2.9.6 and Waterfox 56.2.8 (from March 14, 2019). Both the new iGetter WebExtension and old XUL based add-on works fine with Waterfox. Adding old iGetter add-on is manual, but it's a matter of one time folder copy plus some tweaks in Waterfox add-ons page. I installed Waterfox with the selected by default option to import anything from Firefox, but that option (in my opinion) should not affect iGetter add-on installation.

Before anything else, you need to turn on "Install iGetter Browser Extension" option at iGetter Preferences, Integration panel.

1. In Finder you need to navigate to Waterfox profile and open the "extensions" folder. Since user Library folder is hidden, to open it, first show hidden files with Shift+Cmd+. (Shift+Cmd+period). Your profile folder should be here:
/Users/<username>/Library/Application Support/Waterox/Profiles/xxxxxxxx.default"

Next open a new Finder window and navigate to iGetter app > Right mouse click > Show Package Contents > Resources. Find the "igetterextension@presenta.net" folder. Now copy (don't move) by Command+Drag or Copy&Paste that folder to the "extensions" folder of Waterfox. When you start Waterfox, it will show a yellow notification that a new extension is added. Click on it to confirm installation.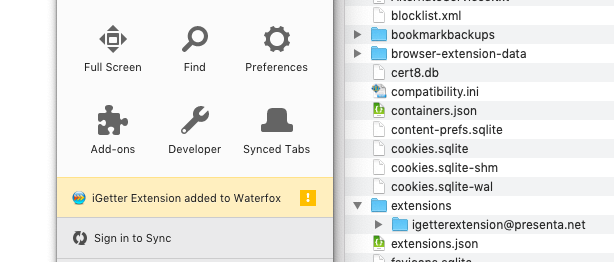 2. Disable the iGetter extension that has only "Disable" button. The old XUL based extension (which we want) has both "Remove" and "Disable" buttons.





3. Disable "iGetter Plugin" in the Waterfox > Add-ons > Plugins panel. Only the "iGetter Scriptable Plugins" must be enabled.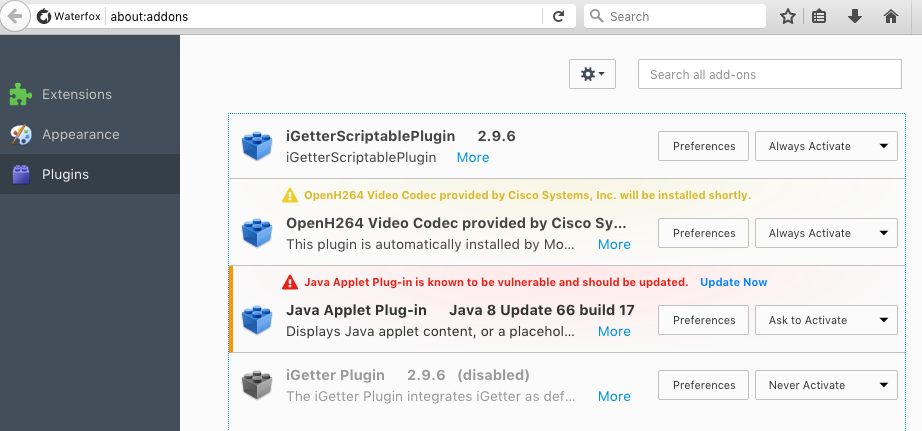 4. When you click on a download the Waterfox Save dilaog should appear with the "iGetter" option on it: